The Best Free Tools for Digital Marketing
Marketing is a bit of a mission.
Seasoned marketers know exactly how many moving parts it actually entails. Meanwhile, SME owners looking to promote their businesses for the first time can quickly become overwhelmed.
Luckily, there are tons of resources out there to help you – including technology.
Behind any good marketer is a suite of softwares and tools to make their jobs and lives easier. And there's something for everyone and everything, from content creation to analytics and data.
Finally, and perhaps best of all, they don't have to cost the earth. In fact, many of them are totally free. Here are seven of our favourites.
Hootsuite
Ah, social media. Can't live with it, can't live without it – and if you're a business, you really can't leave without it. Social has become one of the most powerful marketing channels in the world.
Yet social media marketing can require a lot of coordination and management. From planning, creating and publishing content (especially across multiple platforms), to engaging with your page's followers, to tracking metrics and monitoring your progress – it's a lot.
Hootsuite helps with all sorts of things, from publishing content or scheduling it in advance. You can also monitor your feeds and do basic reporting and analytics.
A paid version of Hootsuite has more advanced features, but the free version is useful for marketers who are just getting started.
Canva
Canva is a design and content creation tool that can be used for all sorts: social media graphics, logo design, presentations, PDFs and more.
One of the best things about Canva is that it comes with tons of different templates. These make it super easy to create content, without requiring the skills of a graphic designer, or expensive software like Photoshop or InDesign.
The templates are easy to use and tweak, so you can create great visuals without an eye for design. Being able to resize images also makes repurposing content easy and efficient.
Canva's free version gives you access to the basics, but a paid version is fairly cheap too if you want more tools. Finally, Canva shouldn't be a long term replacement for a graphic designer, but it's great to use while you're starting out.
Trello
Project management is a massive part of marketing. Whether you're managing multiple accounts or planning complex campaigns, being able to manage deadlines and deliverables in an efficient, collaborative way is important.
Trello makes project management much easier. It displays your projects as boards, which you can fill with cards containing information, checklists, or content, all within a clear and easy-to-navigate interface.
There is a paid version of Trello too, but the free version is great for getting started with project management and includes the core features you need as standard.
UberSuggest
SEO is an important part of making sure a business is discoverable online. And choosing the correct keywords is a big component of that.
UberSuggest is a keyword discoverability tool designed to help you discover, analyse, and then select the right keywords to help a website rank. It tells you a number of important things, such as a keyword's monthly search volume, the domain authority score of your website (and that of your competitors), and the number of backlinks and social media shares that a website or a piece of content has.
This will help you to assess what content or pages are authorities within the industry you're marketing for, and can also help you to identify keywords.
AnswerThePublic
AnswerThePublic is great both for keyword research and for generating content ideas. The premise is simple: you type in a word of phrase, and it'll generate a series of questions and topics. These are all questions and topics that people are actually searching for, by the way – so you can create content that your audience actually wants to read about.
AnswerThePublic generates topic ideas in lists of questions, comparisons, prepositions and related terms, so it's a lot less restrictive than actual keyword tools typically are. It also aggregates the data in different ways, from raw to visualisations – our favourite is the helpful mind map.
With AnswerThePublic, you get one free search a day with a public account, and three if you make a free account. For more searches per day, you'll need to pay, so use it wisely.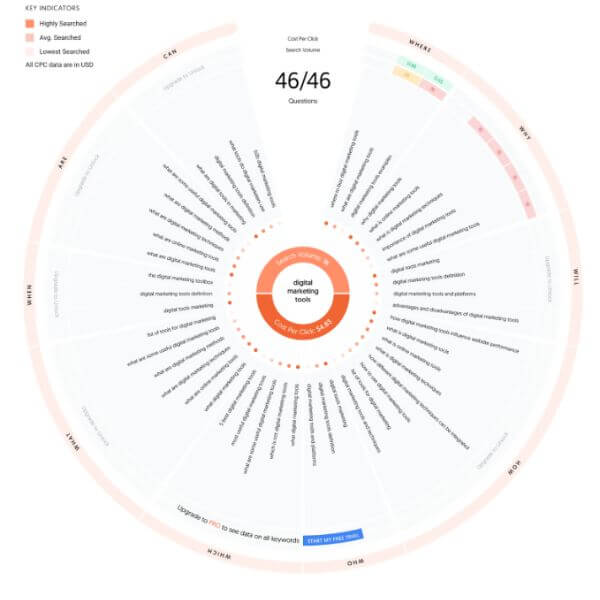 Google Analytics
It's simple. If you have a website, you need Google Analytics. Otherwise you're missing out on access to an absolute mountain of data.
Google Analytics is a free-to-use Google product. It easily connects to your website, and generates all sorts of insights around user behaviour, such as:
The number of unique or returning visitors and the amount of time they spent on your site.
What landing pages users arrived on, and what referral domains they came from.
Demographic data around your users, including things like age, gender, location and device.
The content users viewed on your website and the route they took from page to page.
Bounce rates (how many users left your site immediately), exit rates and exit locations (how many people left your website, and what pages they left from).
You can also set goals (specific actions people take on your website, such as making an enquiry or buying a product) to establish conversions and calculate your conversion rate.
Google Analytics also has a ton of benefits if you're using paid ads. This is a bit more complex, but it's also something ITK can help you with (not that we're hinting or anything).
Google Search Console
Google Search Console is another essential. When used in tandem with Google Analytics, you've got yourself a double threat.
Search Console has a variety of features:
Its indexing tool allows you to see if any of your pages aren't indexed on Google's database and allows you to request indexing by submitting a sitemap. Pages that aren't indexed won't show up in search results.
Its performance tool allows you to view your site's position in search results, the number of impressions you've had in search results, and how many clicks you've had from search results. It also shows all the keywords a site ranks for.
Its experience toolis important for auditing and assessing the health of your site. It flags any technical issues or any problems that page visitors are experiencing in real time so that you can fix them and improve on user experience.
Want your marketing made easier?
Between content creation and data analysis, social media and SEO, marketing puts a whole lot on your plate. Even if you've got the best tools on your side.
Luckily, you don't have to handle it all on your own. ITK Media can handle all elements of your marketing, from organic social to managing your ads.
Could you use a helping hand? Drop us a message.